Nova: Cloudwalker's Tale

Nova: Cloudwalker's Tale is a puzzle game where you'll discover a devastated world full of legends. Move, combine and organize clouds to create your path across the skies.
Gather all the star shards and take them with you back to the Tree.
Use your magic to control white clouds and create your path to the passage.
Dark clouds are unaffected by your magic, but they merge with other clouds when they touch them.
Full screen mode recommended on web build.
✶ Controls ✶
Mouse - Click and drag to move clouds.
Mouse - Click to move Cloud walker.
R - Restart current level.

✶ Credits ✶
Game Design - Fer Gueler
Art - Dre Otero
Code - Javier Codina
·
Music & Sound Effects - Groovel Studio
✶ This game started in the #SGDJamIII ✶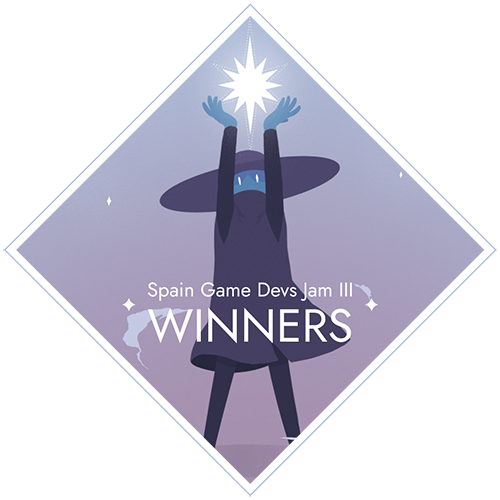 Nova: Cloudwalker's Tale es un juego de puzles en el que descubrirás un mundo devastado lleno de leyendas. Mueve, une y organiza nubes para crear tu camino a través de los cielos.
Recoge todos los fragmentos de estrella y llévalos de vuelta al Árbol.
Usa tu magia para controlar las nubes y crea un camino hacia el pasadizo.
Las nubes oscuras no se ven afectadas por tu magia, pero se unen con otras nubes cuando las tocan.
Modo pantalla completa recomendado en la versión web.
✶ Controles ✶
Ratón - Arrastra las nubes.
Ratón - Mueve al Caminante de nubes.
R - Reinicia el nivel actual.

✶ Créditos ✶
Diseño - Fer Gueler
Arte - Dre Otero
Código -Javier Codina
·
Música y efectos de Sonido - Groovel Studio
✶ Este juego empezó en la #SGDJamIII ✶
Download
Click download now to get access to the following files:
Comments
Log in with itch.io to leave a comment.
Nova Cloudwalker's Tale Walkthrought
¡El juego me ha gustado muchísimo!
El arte en general es bastante impresionante. Pero es que además, genera una sensación muy bonita de tranquilidad a la que también se le suma la música de forma casi perfecta.
Los puzzles son lo suficientemente exigentes para que sea interesante y entretenido, pero no tienen una dificultad extrema, así que no se genera frustración. Además, no siento el error como un castigo, más bien como un estimulante, lo cual me parece muy guay.
Creo que la curva de dificultad avanza de manera bastante coherente y que mostráis las diferentes mecánicas de forma bastante amigable (en cuanto a tiempos) a todo tipo de jugadores, tanto experimentados como casuals.
En general me lo he pasado muy bien jugándolo y he disfrutado bastante del arte. Así que, ¡enhorabuena a todo el equipo!
Me alegro un montón de que lo hayas disfrutado!
Gracias por todas las palabras bonitas, significan mucho para nosotres. Seguiremos trabajando en el juego para completarlo ♥
Show post...

REALLY FUN GAME
Lovely game. Art design is beautiful, puzzles are fun and challenging.
Congratulations to both of you! Beautiful game and pretty fun gameplay. The visuals are amazing and the puzzles are great. The last one took me a while. The controls are easy too, so really, nothing bad to say about the game :)